IYAK Fiber State-of-the-Art
"So what do you do with a yak?" This is probably the first question that we all get after "Is that a buffalo in your pasture?" Once you establish the fact that no, those beautiful animals aren't buffalo, but Tibetan yak, people immediately want to know why we raise them, and what they are good for. So, the conversation starts rolling along and we, as breeders, spend most of the rest of the conversation discussing the fact that in addition to these animals being aesthetically handsome, they are easy and fun to raise, and that yak truly fall into what we call " an end use livestock model."
Once we get past discussing the fact that yak can be raised to sell for breeding stock, packing and for their meat (if we are lucky enough to have enough to harvest for consumers) the subject of fiber comes up. The fact that yak fiber is considered to be one of the finest of all exotic fibers is something that most people haven't ever heard.
Here at Great Lakes Ranch we have worked hard to make fiber a viable part of our business plan in raising yak. We spend quite a bit of time educating the public on the ranch, at fiber shows, and events. It helps that we have an onsite "Fiber Shack" where we sell yarn, roving, and all items fiber related from shawls, jackets, hats, gloves and mittens, yak rugs, hand knit scarves, ornaments and more. We usually start our visitors with a tour of the herd, out in the field winding up in our handsomely converted granary, where we have our store. By the time we finish answering questions, we have usually made a sale of some sort and certainly have generated a better understanding of just how versatile and amazing yak can be.
So, you ask, what are some of the facts about yak fiber that you might want to tell a visitor or customer that would be interesting? Here are some talking points that we start with:
Did you know that yak fiber can be as fine cashmere, quiviut or alpaca?
Did you know that it can have a micron count of as low as 18, which is considered to be at the low end of the spectrum for fineness in a fiber bearing animal?
Did you know that it is collected not by shearing but by combing?
Did you know that in addition to being very soft and fine, that it is durable, water resistant and unlike sheep wool, has very little "grease" content?
Did you know that the finest wool that can be harvested from a yak is a soft down that the animals grow in the winter months to keep them warm and shed when it starts to get warmer?
Did you know that besides the soft down of the yak, these animals also have a courser fiber that can be harvested to make lead ropes, bracelets, saddle blankets, rugs, reins, halters, cinches, cat and dog beds?
Do you have any idea how rare USA raised and harvested yak wool is?
Did you know that some of our best designers in the USA are using yak down in their garments?
After we explain some of the facts about yak fiber we take the time to explain how we harvest the wool, show them what it looks like before it is processed and take them step by step, with a collection of photographs, through the various stages at a commercial mill. We explain that yak wool has a short staple and therefore is best blended with another fiber, be it, bamboo, silk, sheep wool, alpaca etc. We outline the learning curve involved in the decision making process of what to do with the raw fiber, once harvested.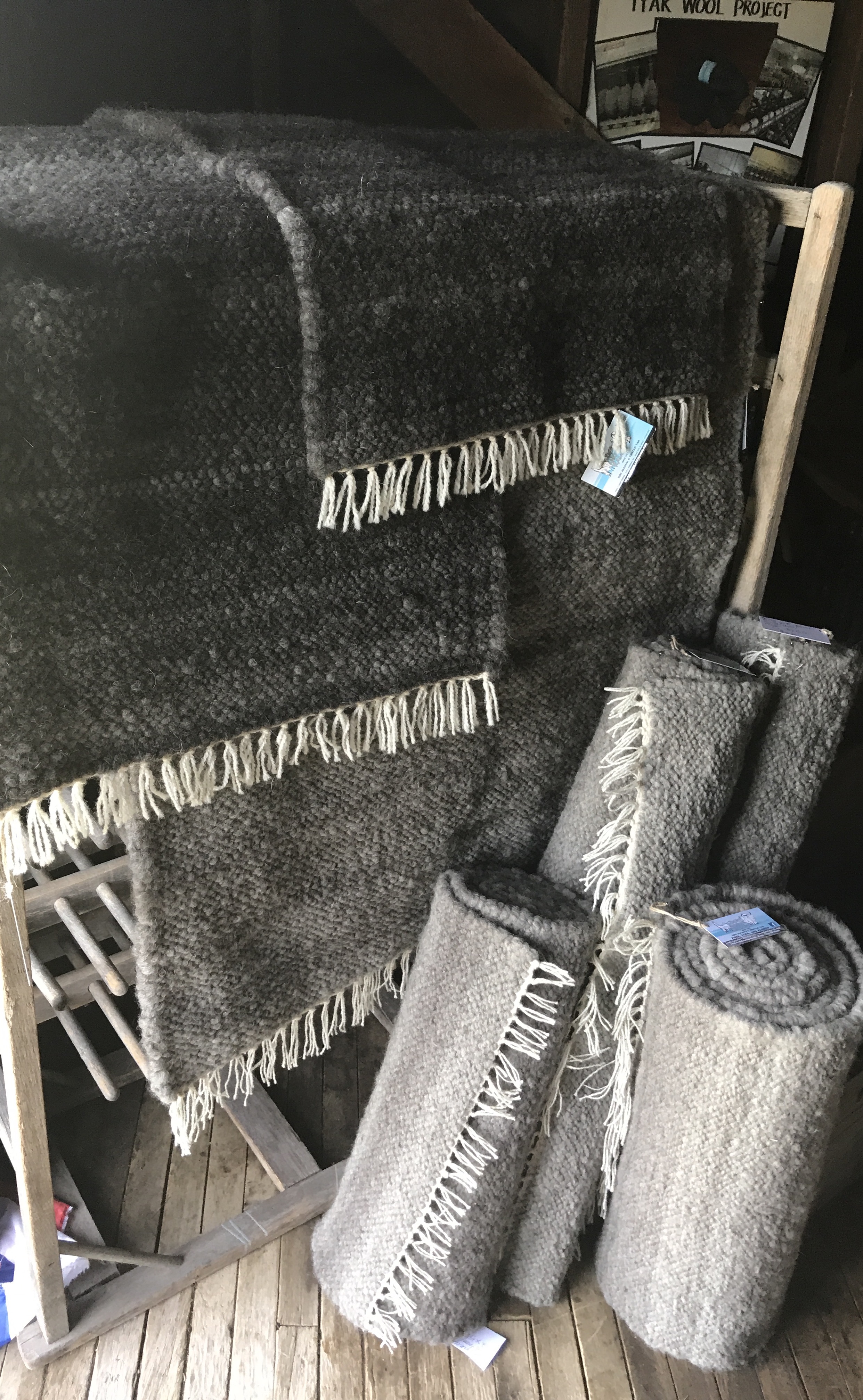 Lastly, if we haven't already convinced them how interesting yak wool is as an end use product, we explain how rare and coveted North American raised and harvested yak wool really is. We have a collection of items in the store made out of yak wool from Tibet and other places. We show our own yarn, rugs, and hand made knitted items from our yarn wrapped in labels custom made with our ranch logo. By this time most people are duly impressed. Our visitors leave the store, often with another view of our yak herd and a completely new appreciation for those animals that they were sure were buffalo. Certainly, they leave with a smile on their faces, a story to tell and a new found appreciation for what they have learned about those funny looking animals in the pasture.
The bottom line for us, is that it is fun to share our love for these animals and generate further, an interest in our industry, as a result. If you haven't considered the idea of marketing your ranch by including the fiber side of the business we highly recommend doing so. We think that not only will you enjoy including this in your business model, but also foster an even deeper love and appreciation for what these animals represent both for the public and yourselves.
If you have any questions, contact Patricia Young, Fiber Arts Coordinator at: info@yaklady.com or if you have ideas for new fiber content or blog posts contact the webmaster, Nicole Porter at: nicole@prairieskysanctuary.org


JANDY Sprouce
Jandy and Brad Sprouse are lifetime members of IYAK. Jandy has been one of the forerunners and leaders of the growing fiber industry at IYAK. Brad was involved in the early days of both the alpaca and yak associations before there were any registries. In fact, Brad owned the very fist registered yak, Sgt. Pepper, when the IYAK registry opened up.
Two years ago they sold the alpaca and last year the yak herd - the ranch is for sale and they are aiming towards retirement! Now they live in their dream house on Lake Michigan with 70,000 acres of the Sleeping Bear Dunes National Park right next door. When the stock trailer, the final piece of ranch equipment finally left, it was a bitter sweet moment.